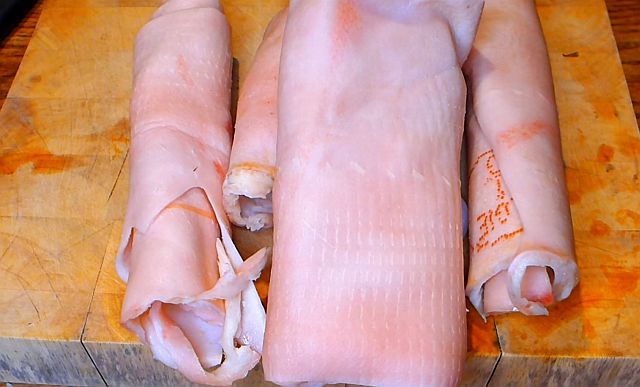 Ingredients. It is a very easy part. You need to have pork skin. A lot. It is better to start working with at least one kilo of pork skin (skin, not skin with a fat layer), otherwise, it is just wasting of power and time.
Spices for boiling. I can't give you any strict advice. Use whatever you like most! I do prefer to add ginger, garlic, onion and spices - black pepper, chilli, coriander, cloves, star anise, cardamom, and cinnamon. But you can choose your own spices to make sure that the stock is rich and tasty. And also, don't forget to salt it properly.
Spices for sprinkling. Again everything is in your hand! Salt, Italian herbs, lemon salt, paprika, chilli powder and so on... Can use any craziest combinations!!! Add glutamate or don't add glutamate - again this is your choice. Chicharron in Asian countries have more glutamate than chicharron from other places.
Don't forget about oil for deep frying.